Licencing Relaxing Videos for Public Use
The products for sale on this website are for home use. For public use of Uscenes relaxation videos please get in touch with us to discuss your licencing needs. We can then provide you with a quotation and a licence agreement. Email us at info@uscenes.com for a custom quote and we will usually be back in touch within hours.
If you wish to use our videos for up to 100 people per day, you can buy instantly on our waiting room videos product page. If you just want one aquarium video you can buy our most popular aquarium video for public use by clicking here.
Limited time special offer: try a 2 hour night cityscape video for just $59. 

Licence our relaxing videos for public airing and other projects
Email us at info@uscenes.com for a licensing quote
"As a wellness coach, Uscene's high-quality nature videos has been extremely beneficial for my one-on-one meditation sessions. They provide a deep and relaxing background for my clients to assist with stress reduction and overall well-being." Levar Riley, Wellness coach.
There are many uses for our relaxation videos, some examples are below:
Hotel Lobby – have your hotel guests feel relaxed with our attractive aquariums, beaches and other nature scenes, with cozy fireplaces for Christmas.
Public Transport – see our videos on Finnair flights and other airlines. Our videos can also be used on trains, trams, buses and ferries. It is possible to buy a licence so that you can add custom messages over our footage.
Healthcare waiting rooms – our calming videos are ideal for the likes of dental and doctors waiting room TVs. This is one of the most popular places to air our relaxing videos. We can provide a whole schedule of waiting room videos for hospitals, or integrate with an existing on demand digital signage system. Click here to see a photo sent in by Hope Clinic in Texas, who use our videos for their waiting room.
Other waiting rooms – from funeral homes to auto shops, our videos can be used in any waiting area. For example a recent client is using them on a big screen 4K TV in a garage for people waiting for a part to be replaced on cars and another at a legal company.
Restaurants, Bars and Pubs – Fireplaces make pubs cozy in winter, the aquariums make a great alternative to random noisy sports shows in bars, and the scenery videos can help to set a particular ambience in a restaurant.
Video Editing Projects – Use our media as background videos for marketing material and any other promotional content. Use as a background for websites, apps and banners.
TV Shows and Movies – A notable achievement was Universal Television using our Jellyfish Aquarium on massive screens in various parts of the futuristic new TV series Pure Genius. The series began airing at the end of October 2016 and our video was featured prominently on the show.
TV Conference Use – You can also use our videos to show off the quality of your latest Ultra HD SMART TVs.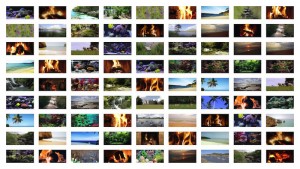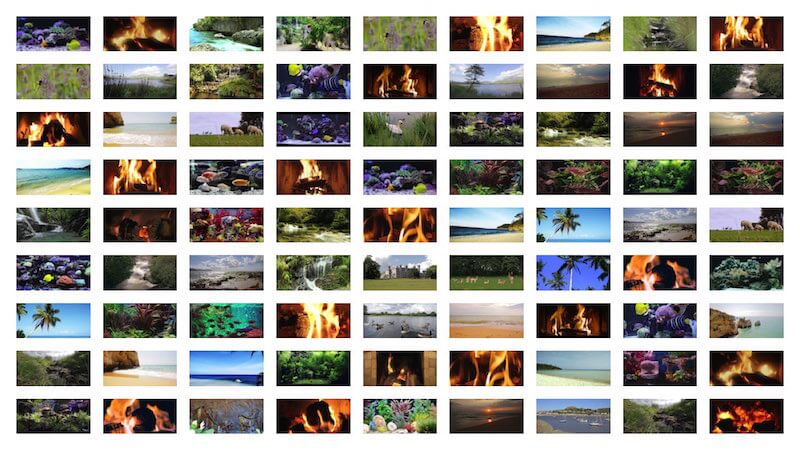 Licensing 4K Aquarium Videos
Our most popular content for licensing is our ever growing collection of 4K Ultra HD aquarium videos. These amazing recordings are filmed with professional grade camera equipment.
The fish tanks are shot in the latest UHD resolution (3480 x 2160 pixels). This makes the aquariums perfect as moving TV wallpaper on even the very largest 4K Ultra HD TV screens and monitors. On Pure Genius one video was blown up on a 20 foot high wall.
Our 4K nature scenes, fireplaces and fish tank footage is available for licencing in any public situation. We have filmed all sizes of aquariums from small home fish tanks to massive aquatic installations at the world's finest zoos and aquariums. Email us today for a quote at info@uscenes.com
You can view all our videos by clicking here. Where you can click on any product where you will find a sample of each video. We have a massive library of video content for waiting rooms and any other public space or situation.
You can also find our videos on our Youtube channel. When you buy our relaxing public use or waiting room videos from us, we provide reasonable pricing for downloading our videos, usually with a lifetime licence.
Our most popular video for home users and licencing is Coral Garden; an aquarium with over 7 million views, making it the number 1 4K aquarium video in the world:
We supply video footage to international companies such as airlines and the television and film industry. Our Jellyfish Aquarium has been featured prominently on the TV series Pure Genius, made by Universal Television and aired on CBS.

Email us at info@uscenes.com for a licencing quote