Last Updated on May 22, 2021 by Uscenes
Update 22 May 2021: we have now created a 3 hour 4K aquarium video for those who prefer a longer video to looping shorter ones. It is available on a new platform for us (Gumroad), which allows you to download the 4K video (and set to loop if you like), or stream the video in Full HD online.
Want to know how to loop a video on Android? Don't worry, it is easy. Our MP4 videos (and other video types) can be transferred to Android mobile phones and tablets running and then used as a manual screensaver, looping as long as you like.
To do this plug the USB cable into your computer and transfer the MP4 video file to your Android phone or tablet. It is super easy to transfer a video to an Android phone. You could even use the cloud or Bluetooth but your USB cable is fastest.
Once you have transferred the video to your Android device. Just go to Files. Then Video and click on the video name. Once playing you should see a loop option in the settings icon. If not just download a free media player like VLC to easily loop videos on Android phones and tablets.
Update on how to loop a video on Android 2020:
It is now easier than ever to loop a video on an Android tablet or phone. I like using VLC media player but almost all media players have a repeat or loop function. Visit 4K Aquarium Video Download to see the best videos to loop on Android devices of all sizes.
Update late 2016: You can now use VLC free media player on Android devices (maybe iPhones and iPads too?). Download it then press play. Then click on the circle with 3 dots in. Then click on the last option which is a square with arrows on the end of 2 lines. Then it will keep repeating.
Download link: VLC for Android click here
If you want to check whether you should download a HD or 4K video please click here to go to our samples page. I highly recommend you just stick with the Full HD versions. Firstly you won't notice the difference in quality on these small tablet and phone screens. Also your device may not be able to play our format of 4K videos (encoded in H.265 whereas HD is H.264)
This makes the below information out of date as VLC is an excellent media player anyway. I always use it instead of the video player that comes with my Android devices. It is great to have a Tablet screensaver, especially for helping one relax. When I use the videos to help sleep I just don't have the repeat function selected so they are not looping all night.
---
Next download a video player app which can loop videos. Our videos are best looped so you can just forget about them and enjoy them as a background video. Our videos last 20 minutes but you don't really want to be restarting them all the time. I use Video Looper which is free and does the job without any adverts.
Just search Google Play for Video Looper, install, then click on the app and select the video. It will automatically play continuously, looping until you exit the app. There will probably be other apps that can do this too. Video Looper was the first I saw and it does the job just fine.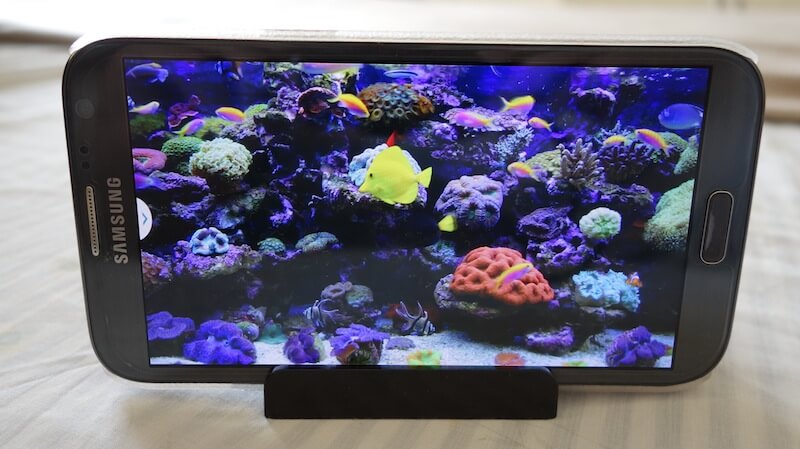 Videos will play smoother on higher-end Android devices. I have a cheap smartphone and it doesn't play smoothly. On our Galaxy Note 2 (and now 9 in 2020). it plays beautifully (see photo). On a decent tablet, the videos will look great on the larger screens. This is a really good use of your device when you don't have the means to watch the videos on your TV, or when traveling. In just a couple of clicks, you can use one of our aquarium, scenery or fireplace videos as a tablet or smartphone screensaver.
If you are on a good internet connection you can actually stream the video from the "cloud" e.g. Dropbox or Google Drive. This is a very useful feature for devices which don't allow extra storage as our videos are often around 900MB in size.
Visit 4K Fireplace Video Download to see the best winter screensaver MP4 videos to loop on Android devices of all sizes. Also see our categories for aquariums and scenery videos which are perfect to be looped for long periods of time on Android devices and all other devices.