Last Updated on March 16, 2023 by Uscenes
The Best 4K Christmas Fireplace Video
Update: We have now created a modern fireplace video with classy Christmas decorations. It is a gas fireplace so you may still want to chose last year's best Christmas fireplace video, or Ornamental Fireplace Video (left of photo above) for a more traditional look.
Our new Christmas Fireplace is available on our website as a 4K video, Full HD video, plus 4K or HD Windows or Mac screensavers.
Update December 2017: We have just added Ultrawide Fireplace for people with 21:9 aspect ratio monitors just in time for Christmas.
All of these fireplaces are filmed and encoded in 4K Ultra HD resolution. You can download a 20 minute version to loop on your 4K SMART TV screen, from our website. Alternatively, screensavers for Windows or Mac computers.
Our Pick for the best Christmas Fireplace Video and Screensaver 2015
If you are looking for a fireplace video for Christmas 2015, then you are in the right place. Our latest fireplace video screensaver download package is called 4K Fireplace Video.
This is a very simple video showing a roaring log fire burning brightly. The brass frame adds a touch of class. This isn't a themed Christmas fireplace video. We actually tried using Christmas decorations and props to make a dedicated Xmas fireplace video, but we couldn't get it right so we stuck with a nice big fire with a close up shot of the burning logs.
Last Christmas we had the extended family over and they loved the previous version of this video screensaver (Brass Fireplace).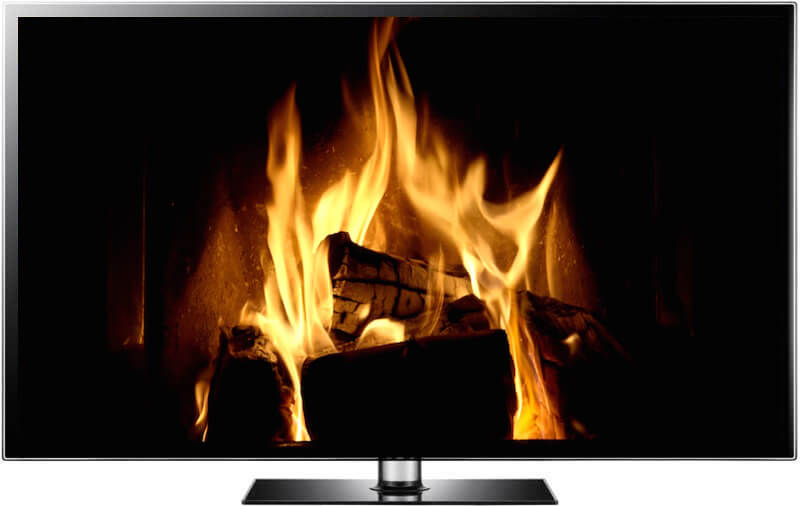 What makes this the best fireplace screensaver video for Xmas?
It is a loopable 20 minutes video which was filmed in 4K Ultra HD. On very large UHD screens the footage is amazingly life-like. For many people this year Christmas will be a good excuse to upgrade to a Ultra HD TV. 4K Fireplace Video is the ideal way to show it off when not watching anything- like on Christmas day. I find it adds a great ambiance to a room when talking with relatives not seen for a year. It keeps the party going with a cozy atmosphere.
For those people not in the market for a 4K Xmas fireplace video, you can buy a much more affordable version in Full HD 1080p. This is downscaled from Ultra HD, so all that extra detail is squeezed in, making it a better option compared to the previous recording of this fire- Brass Fireplace (our all-time best seller).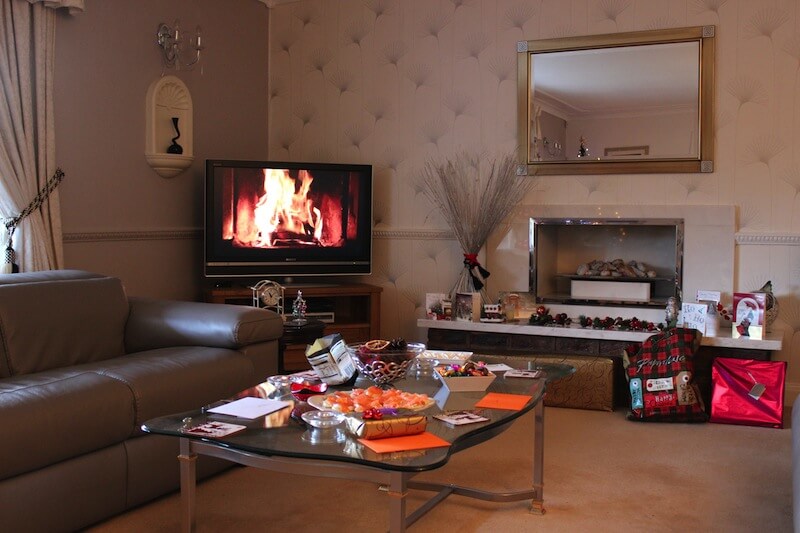 The difference isn't massive though and it really depends on screen size. On small screens you may find it hard to notice the difference. On 30+ inch screens the new footage is more impressive even on the Full HD version. On big screens like 50 inches and above, the benefit of the 4K version will really be obvious (on a UHD SMART TV). On smaller UHD TVs the 4K version will be outstanding too.
If you want an alternative Xmas fire video in Full HD, Toasty Fireplace has been very popular. It has been catching up to Brass Fireplace thanks to it's closer up shot of a fire. It excludes the mantlepiece or frame, which means a larger actual fire.
The Christmas fireplace screensaver
The 20 minute MP4 video also has the options of a screensaver version, with both a Windows and a Mac screensaver. These are both in Full HD and self-loop after 3 minutes. The looping points are barely noticeable. 4K fireplace screensavers are available on all our fireplace videos with the yellow 4K logo in the product photo. Take a browse here: https://www.uscenes.com/download/fireplace-video/
---
Christmas Reindeer Nature Video
If you want to mix things up a little try our lovely scene of deer in the sun, in front of a quaint countryside cottage. Click the image to watch the video.