Last Updated on October 5, 2022 by Uscenes
Make the Most of your Samsung SMART TV when not in use by using a screensaver.
Firstly, how to use the built in options, which are limited. So be sure to read on for better options.
Switch on Your Samsung TV.
Navigate to the TV's Home page by pressing the home icon on your remote control.
Use the directional buttons to find and select "Ambient Mode".
This will give you options to change the screensaver on your Samsung TV
How to put a VIDEO screensaver on my Samsung TV?
Download a video from your phone or this website and locate it in the Downloads folder of your PC or Android phone (includes Samsung phones and tablets).
Copy the video file to a USB flash drive. We like the small Samsung USB sticks such as the ones in the photo above, but any USB memory stick or external hard drive will work.
Plug the USB thumb drive into your TV. Samsung's own USB sticks are extremely well reviewed and priced. It is under 10 bucks for the smallest ones and they go up to massive capacities such as 265GB. Easiest place to buy is on Amazon.
Select the Home button on your remote control and then select "Devices".
Click on USB and then select the video file to begin playing.
Finally, select Repeat to have the video loop – giving you a manual Samsung TV screensaver.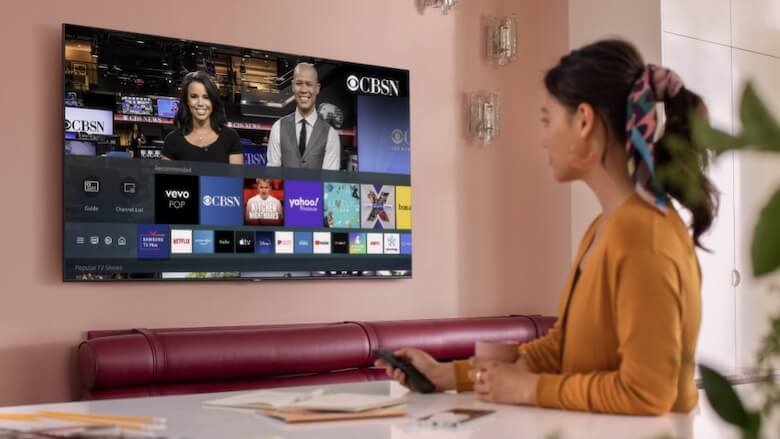 What is the best screensaver for my Samsung SMART TV?
You can use any video you like, such as a beach you filmed on your phone on holiday. But the best screensaver videos are what USacenes makes: static scenes where the camera doesn't move. This means when the video repeats (loops), the playback is almost seamless.
Using a static scene with the camera on a tripod gives you 3 options for your Samsung TV when you are not watching anything:
Turn your TV into a fish tank with one of our aquarium screensavers.
Save money and be safe by making your TV a "virtual fireplace" with one of our fireplace screensavers.
Transform your Samsung TV into a nature window with one of our scenery screensavers.
Think of them as background videos, to glance at occasionally. Great for encouraging conversation and reading instead of watching trash TV. The audio on our videos is relaxing and most have surround sound.
---
Loop amazing relaxing videos as manual TV screensavers for Samsung SMART TVs

Subscribe to the Uscenes relaxing video screensavers YouTube channel to see all our videos. Which can be downloaded as MP4 videos to play and loop as manual TV screensavers. They are all also available as Windows screensaver apps. All can be used in Full HD and 100 can also be used in 4K UHD.
Try a free SMART TV screensaver video, which is one of our better aquarium videos in Full HD. There is no strings attached, so you may as well give it a try. As mentioned above, you can download our video screensavers on any Samsung phone, tablet, laptop or PC. You can also download them on any Windows PCs and laptops.
Our aquariums make a great alternative to the expense and hassle of owning a real tropical fish tank. Believe us, we learned the hard way by creating a big fish tank themed after Finding Nemo. Our bestselling 4K aquarium is called Coral Garden and you can see the promo clip below. All download from our website are free from any branding or promo text.
The original release of Coral Garden had different audio, but we left it on YouTube as it has had over 7 million views. We have many more popular aquariums, cozy fireplaces and nature scenes here and on our YouTube channel. Check them out today to see what you can achieve with your Samsung TV.